PRIMAVERA 1426
Sarajevo

, 1

2

.

06.

200

5

. -

N

ova kolekcija modne dizajnerice Aide Korman inspirativno se odmiče od njene prethodne revije "Na bosanski način" (Ad modum bosniesem), odnosno srednjevjekovne bosanske teme.


Primavera 1426 (Proljeće 2005) posvećena je narodnim običajima i cerimonijalnim ritualima zemalja Mediterana, njihovim sličnostima i razlikama.
Ova proljetna kolekcija visoke mode broji 20 svečanih modela izrađenih od čipke, devorea,

organze vedrih boja i tonova uz zvuke tradicionalne napuljske pjesme.
Primavera 1426 slavi neizbje

ž

ne

ži

votne cikluse, simbolizira proljeće, početke, odrastanje, doba mature, vjenčanja, rođenja i druge tradicije vezane za vječitu ljudsku potrebu da podijeli radost kroz igru i veselje u grupi.
Na www.aidakorman.com

nalazi se galerija slika pod nazivom Aida Korman for Aida Korman, gdje je kreatorka pozirala u vlastitim kreacijama za Dnevni Avaz fotografu Fuadu Foči

,

Kao i galerija slika talijanskog fotografa Lorenca Polija nedavno snimljena u Rimu.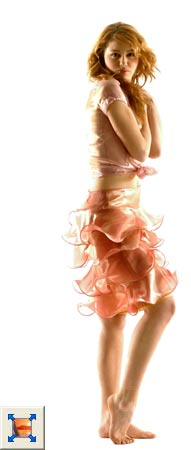 Photos of a latest collection of Aida Korman - Primavera 1426
Quite different from her previous haute couture collection Ad Modum Bosniesem, which was dedicated to the last Bosnian Medieval queen and presented within AltaRomaAltaModa, Aida's new collection Primavera 1426 (Spring 2005) honours people's traditions, customs and ceremonial rituals from the Mediterranean countries pointing at their similarities and differences.

Primavera 1426 is a spring/summer haute couture collection made of twenty models, mostly evening gowns, in lace, devore, organza with bright tones and colours and accompanied by the sound from typical Neapolitan songs.
Primavera 1426 celebrates the circle of the life. It symbolises the joy of any events, being it the spring, a birth or the growth, prom parties and queens, weddings or any other occasion of the life where traditions, rituals and human feelings are shared with other people through the dance and the singing.
On www.aidakorman.com
you will find photos of Aida Korman for Aida Korman, where the designer poses in her own models for Fuad Fočo, Bosnian photographer from the daily news Avaz together with a photo gallery by the Italian photographer Lorenzo Poli, shot in Rome.